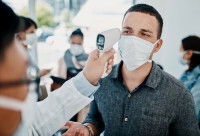 International Recognition of Safety Standards
Maldives has received the "Safe Travels Stamp" granted by the World Travel and Tourism Council (WTTC) on 15th September 2020, in recognition of the measures taken in making the Maldives a safe and pleasurable destination for visitors. Velana International Airport is the second airport in the Asia Pacific Region to receive the much-awaited "Airport Health Accreditation" by the Airport Council International (ACI) on 31st August 2020.
Maldives Border Miles
Maldives Immigration, together with the Ministry of Tourism, Maldives Marketing and Public Relations Corporation and Maldives Airports Company launched the "Maldives Border Miles" program, the very first of its kind in the world on 27th September 2020. Maldives Border Miles is a three-tier loyalty program for tourists who will earn points based on the duration of stay, frequency of visits and other aspects. The program will be officially implemented on 1st December 2020.
Allied Insurance Company
Allied Insurance Company, together with the Ministry of Tourism, launched a COVID-19 insurance policy, focusing on tourists visiting Maldives. This insurance policy called "Allied Inbound" consists of two options covering medical charges, isolation facility charges, emergency medical transportation charges and interment charges. This insurance policy comes in two options: Allied Inbound and Allied Inbound Plus. Tourists who are interested in this insurance should apply for the plan 24 hours prior to their arrival in the country through the Allied Insurance website. The resort establishment in which the tourist is staying can also take this plan on their behalf, provided that the beneficiary will be insured. More details and relevant information are also available on the Allied Insurance website and the toll-free hotline 1600.